While many text editors support file navigation and text folding to some degree, they're usually limited to a small set of popular programming languages. None do so in a way as flexible and fully customizable as EditPad Pro. An EditPad Pro file navigation scheme can be made to support any kind of text file.
File navigation schemes for EditPad Pro are based on regular expressions. Regular expressions are a widely used pattern language for matching bits of text. By combining multiple regular expressions, you can make EditPad Pro's file navigation schemes lay out and fold any kind of text file with as much or as little detail as you want. No programming skills required!
If you are already somewhat familiar with regular expressions, creating a custom scheme is quite easy and straightforward with the JGsoft File Navigation Scheme Editor. If you have purchased EditPad Pro, you can download the scheme editor by entering your email address and EditPad Pro user ID below.
The scheme editor includes full documentation in the form of a help file. I recommend you read through the help file before creating your own file navigation schemes. It contains quite a few tips for crafting useful and efficient schemes. You can use the scheme editor to edit all schemes that are included with EditPad Pro as .jgfns files, as well as all the schemes you've downloaded.
The version of the scheme editor you'll get depends on the version of EditPad Pro that your license is valid for. The scheme editor is also available to users of PowerGREP.
JGFNSE 2.3.3 released 31 May 2017 for EditPad Pro 7.x.x and PowerGREP 4.x.x and 5.x.x
JGFNSE 1.1.4 released 25 August 2009 for EditPad Pro 6.x.x
Upload Your File Navigation Scheme
If you want to make your own file navigation scheme available for download, please enter the complete path to the .jgfns file on your local hard disk below. Your web browser will then upload the file to our web server, where it will be stored and made available for download.
Only licensed users of EditPad Pro are allowed to upload their schemes to our web site. Therefore, we ask that you enter your EditPad Pro user ID below, as well as the email address associated with your license. This is the same user ID and email address that you would use to download your fully licensed copy of EditPad Pro. Note that your email address is needed for verification only. It will not be displayed on this web site.
Updating Your Scheme
If you have updated your scheme, simply upload it again using the above form. The server will notice that a scheme with the same file name was already uploaded by you (you are identified by your user ID). The previous version will then be replaced with the new version.
Note that other people will not be able to overwrite your scheme. If they try to upload a scheme with the same file name, they will be asked to rename their scheme and then upload again.
Deleting Outdated Schemes
If you want to remove a scheme file that you previously uploaded, please enter the file name of the scheme (e.g. MyScheme.jgfns) below. You also need to enter your EditPad Pro or PowerGREP user ID or email address. You can only delete schemes that you uploaded yourself.
"Thank you for your support. EditPad Pro is the best text editor I have ever used. I recently had our Office purchase 5 copies to be used for our day to day responsibilities of working with big data."
— Roger Stewart
  19 September 2018, Virginia, USA
"Just though I'd add that EditPad Pro is an awesome tool... I've been fiddling with making my own file navigation scheme for my 'to-do list' text file that all code developers seem to keep :) It's really usefully to be able to collapse the sections I don't have to worry about right now."
— Paul Petterson
  6 October 2006, Washington, USA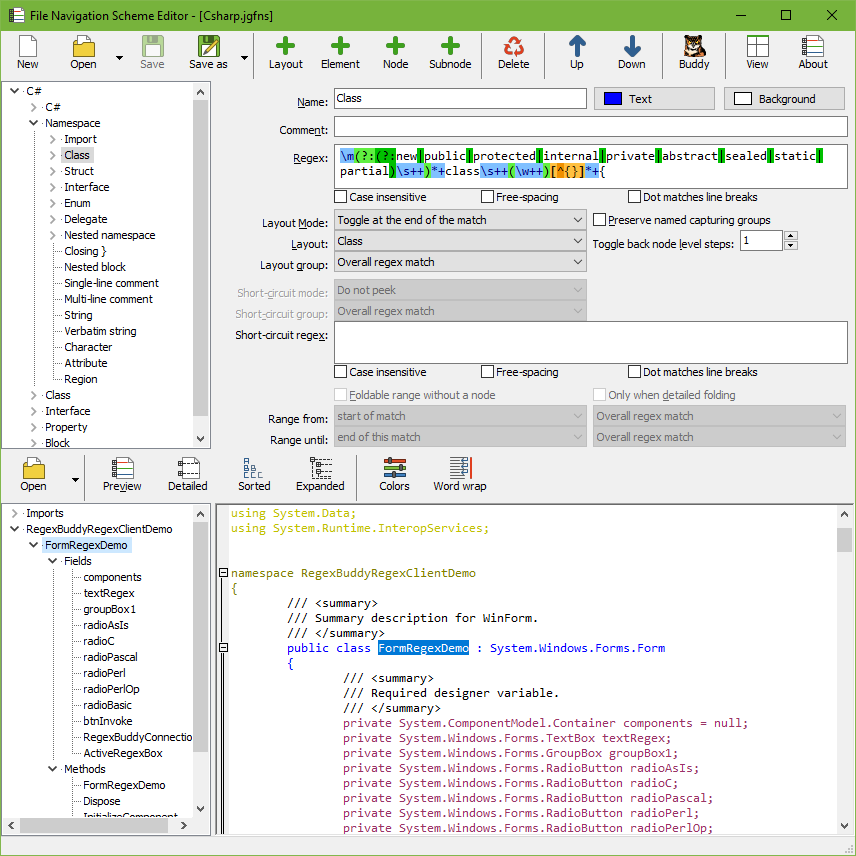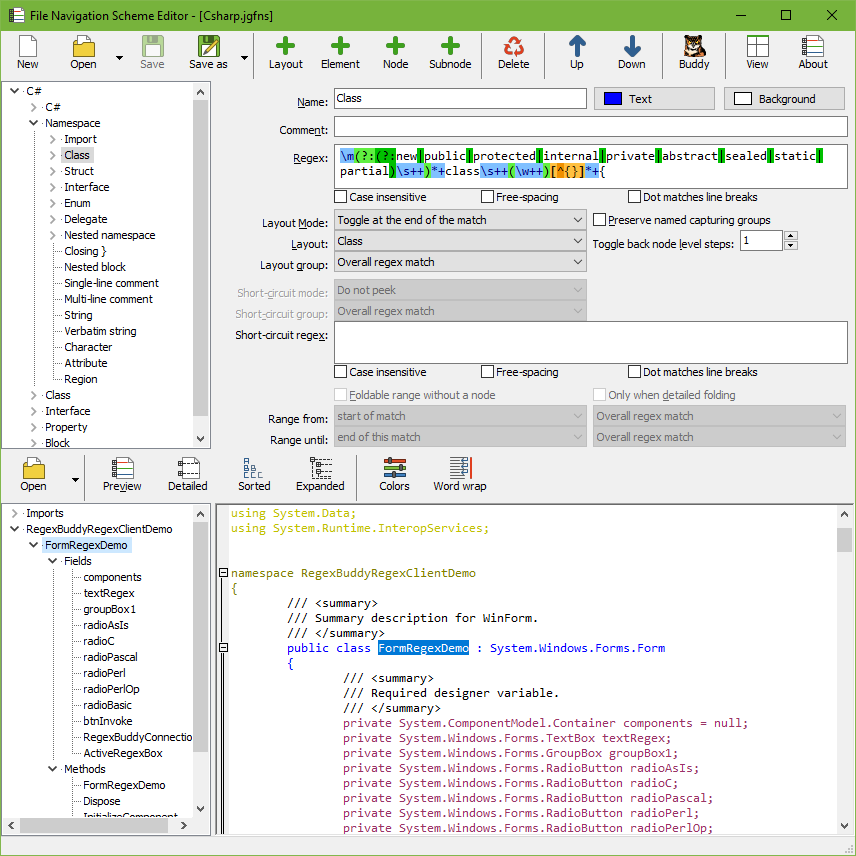 JGsoft File Navigation Schemes Editor
"I just installed version 6 and I am dancing jigs. Great job! The File Navigator alone is a huge value addition, not to mention the macro support."
— Rodney Hill
  26 May 2006, Washington, USA